Full Size Casino Craps Table for Sale
For the person who has everything! Our regulation 12 foot Casino Craps Table is perfect for practice and home parties, with solid wood table top, Corian chip rails, casino rubber pyramids, in black. Our table is hand-made in our mill shop and feature a solid tabletop!
With a real Casino Craps Table, you can practice your precision dice shooting any time or just throw a party for your friends.
The table is shipped via FedeX Freight Service separated but is easily put together.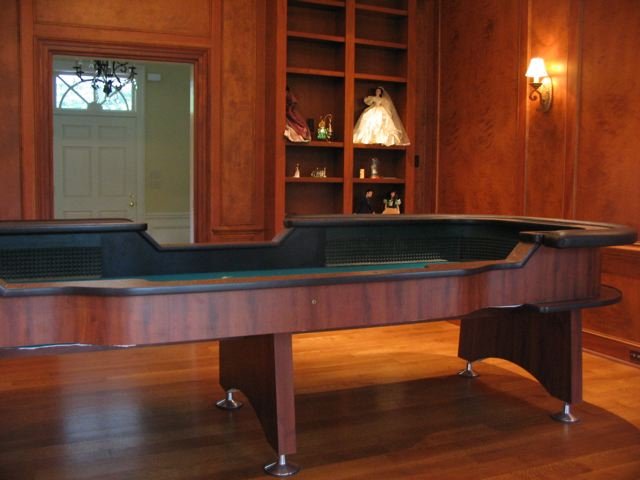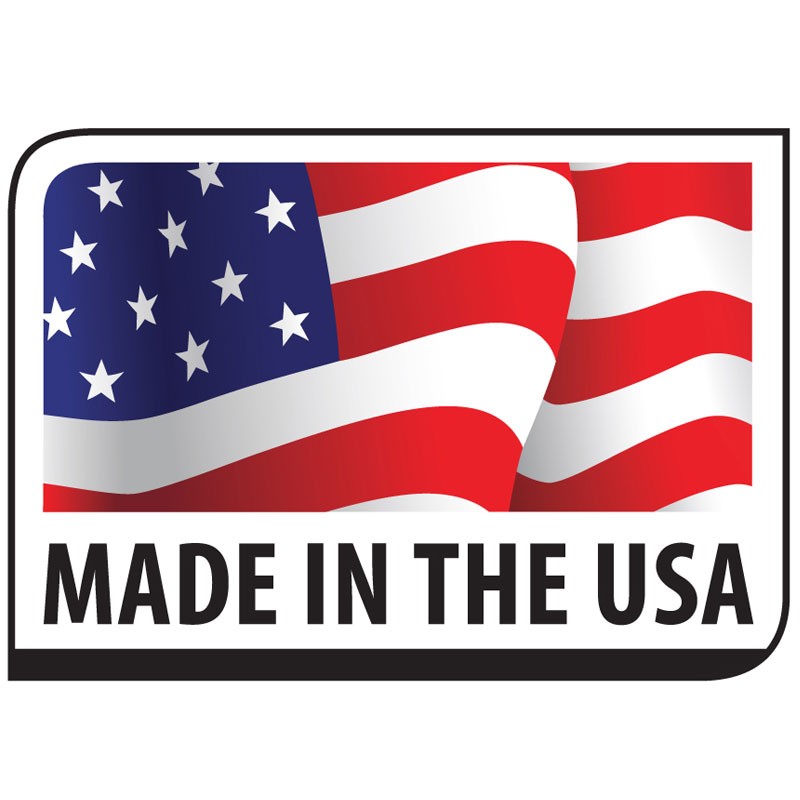 Price: Only $3,995 plus shipping*
* (shipping cost based on destination)
* (price is for basic black table)

To order, call toll free at 866-SET-DICE (738-3423) with any questions and for shipping costs. We are taking orders today!
Additional options are available such as padded arm rest and drink tray, please call for pricing.
10 and 14 foot regulation Casino Craps Tables are also available, please call for pricing.
All regulation tables are specially ordered and made specifically for the customer on an individual basis.
Once an order for a regulation craps table is placed, there will not be a refund of your deposit.
The Golden Touch™ Regulation Casino Craps Tables have the following features:
Regulation height
Solid tabletop
Regulation Casino Craps Table layout
Regulation rubber pyramids on the back wall
Chip rails are made of Corian, the same product that most kitchen counter tops are made of. This gives the table a very upscale look with chip rails that look like marble.
Two-piece construction to make setup easy and it can fit through any door
Casino rubber pyramids
Our Casino Craps Table has a middle leg for added stability
Rail padding can be upholstered in different colors to go with your room
Outside tub and table legs can be laminated in different wood grains such as oak or mahogany instead of black
Our regulation Craps Tables are constructed in a high end mill shop that is known for its custom cabinets. They are not made by an independent carpenter but a nationally known mill shop.
~ ~ ~ ~ ~ ~ ~ ~ ~ ~ ~ ~ ~ ~ ~ ~ ~ ~
Looking for our throwing stations and half tables? Visit our online store »
Want to learn dice control from a professional? Check our seminar schedule then book your place online!
~ ~ ~ ~ ~ ~ ~ ~ ~ ~ ~ ~ ~ ~ ~ ~ ~ ~
Happy Customers
Hi Dom,

This table I purchased from Golden Touchâ"¢ is one of the best investments any serious controlled shooter could make. Yes, I still practice several hours each day.

The thing that I like most is that when I walk up to a casino table I'm not intimidated by it's size nor the rails as I'm used to it since I have exactly that to practice on at home. You guys have constructed this table to be EXACTLY like craps tables I find in all casinos. Using a practice rig or a homemade table such as I built originally is better than nothing, but using the real thing makes a tremendous difference. Not only is my Golden Touchâ"¢ craps table great for practice, but it is a great looking piece of furniture! You can really see that the workmanship is high quality!

Your student
Don P., Texas
I just have 1 word for our full craps table: WOW!!!

The crate sat in my garage, the big pieces in the box. We removed the small items right away, but as I said before, we could not get the 2 big horse shoe pieces down into my basement. Fortunately, I have an unused workshop in the back of my house. It was not heated or cooled, but now I did buy a nice heater for it. Later, I will install an air conditioning unit. It took us a week to figure out how to solve the "table too big" problem, but once I decided to fix up the workshop, it only took about 2 hours to assemble the table!!!

What a genius you are for the easy table, Dom!!! I was afraid it would be your typical engineering nightmare to figure out the assembly. Not at all!

I'm even more excited now about the classes in Tunica!!!

If anyone is interested in your table, I can certainly vouch for it!

Thanks
Dale C.
---
How It's Made
Check out these pictures to see how our regulation 12 foot Casino Craps Table is made. Click on an image to enlarge it.
| | | |
| --- | --- | --- |
| | | |
| Side View | Front View | Back View |
| | | |
| Walnut Chip Rails | Walnut Chip Rails Close Up | Walnut Chip Rails Side View |
| | | |
| Solid Wood Top | Corian Chip Without Padding | Legs and Mill Shop |
| | | |
| Top View Padded | Mill Shop 1 | Mill Shop 2 |
| | | |
| Mill Shop 3 | Mill Shop 4 | Mill Shop 5 |
| | | |
| Mill Shop 6 | Mill Shop 7 | |
Call toll free at 866-SET-DICE (738-3423) with any questions and for shipping costs. Let us help you get YOUR regulation 12 foot Casino Craps Table in your home!