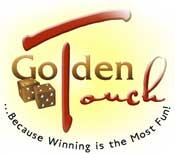 September 2006
Hello from Golden Touch™ Craps/Blackjack:
Welcome once again to the new Golden Touch™ Craps e-Newsletter. We'll be sending our customers occasional e-mail updates with the latest news and events in the world of Golden Touch™.
---
Golden Touch™ Featured Experts
Did you know that Golden Touch™ has regular writers and gambling experts contributing articles to our web site on topics such as blackjack, craps, poker and casino gambling? Visit the Golden Touch™ web site, and view our list of regular writers under the left-side 'Articles' heading. Frank has written a great summary of our experts in this 'Current News' article:
GTC Writers Taking the Gaming World By Storm by Frank Scoblete
Here are some of our latest articles:
Playing the Turn, by Bill Burton
The Iron Cross, by 'Stickman'
The Value of Suited Connectors in Texas Hold'em, by Dan Pronovost
Many more online, and all free!
---
More Great Advantage Gambling Training Products
from DeepNet Technologies… on sale for GTC readers!
What is Poker Drill Master?
Poker Drill Master is a poker training program unlike anything else:
Learn to correctly determine poker pot odds
, and make the best decisions at every betting opportunity.
Use our incredibly fast and powerful poker calculator
that can tell you the winning probabilities and pot odds for any combination of known and unknown hands and/or board.
Use the powerful poker system editor
that lets you select from supplied pre-flop decision methodologies by popular authors and experts, as well as edit or create your own systems.
View the Outs table
to quickly see your single card outs probabilities and pot odds with one or two cards to go.
This program is not a game: you do not play poker against the computer, or battle against programmed AI opponents (artificial intelligence). While playing poker against a computer can be fun, it is a slow and imperfect way to learn and master proper playing strategy. Poker Drill Master maximizes the learning power of your valuable training time by using targeted drills… think back to your secondary school days with flash cards to memorize math or spelling. You are presented with poker games in various states, and have to make the right betting decisions based on the pot odds and/or poker system. This unique approach focuses your attention and mental energy where it counts the most: poker betting.
In low-limit games, every poker expert on the planet promotes one main method to determine whether you should fold, call or raise: pot odds. Figure out your odds of winning with your hand, compare this to the money in the pot and the bet you'd have to make to stay in. If you're getting good enough odds, make the call!
Many experts also recommend specific actions during the pre-flop stage of the game, where position can have a far greater impact than pot odds. Poker Drill Master includes the most powerful poker system editor available to guide your decisions in the pre-flop stage of the game.
Where can I learn more about Poker Drill Master?
The best source is our web site: www.PokerDrillMaster.com. We have summarized the features including some online demonstrations, and provided a list of the most common questions and answers.
Can I try it out before buying?
Of course… Poker Drill Master is shareware, like all of our software products. The unregistered shareware version of Poker Drill Master will let you fully explore the program and features. But, it will prompt you from time to time to purchase a registration ('nag' screens). After you buy the program, you will receive a registration code by e-mail to enter into the program, which will disable ALL shareware 'nags' forever. No need to download a new program when you purchase a registration. Here is the download link:
http://www.PokerDrillMaster.com/PokerDrillMasterSetup.exe
Ok! Where do I buy it?
Just click this link to purchase Poker Drill Master for $49.95, $10 off the regular price:
http://store.eSellerate.net/deepnet/pokergtc
Missed out on some of our past GTC/DeepNet software offers?
It's not too late to take advantage of some of the other great discounts DeepNet Technologies has made available exclusively to GTC readers on their blackjack and craps training software:
Smart Craps Professional… normally $129.95, yours for only $99.95
Roll Recorder… normally $35, yours for only $30
Purchase the Professional Blackjack Bundle for Windows… normally $95, yours for only $85
---
Golden Touch™ Blackjack Course, October 21/22, Las Vegas
"Why should I take the Golden Touch™ Blackjack Course now that Speed Count is
available in the Golden Touch™ Blackjack Revolution book?"
Ok… the cat's out of the bag. You can now learn Speed Count, the easiest advantage blackjack method ever invented, in Frank Scoblete's latest new best selling gambling book, "Golden Touch Blackjack Revolution!".
But we're still teaching our popular two-day blackjack training course… what's up with that?!
While it is possible to master Speed Count and other card counting systems by simply reading a book, it's not easy. And you have no way to know if you're doing it right, or at a level of proficiency to leverage an edge in tough casino environments.
In our courses, you spend 75% of the time at real blackjack tables, practicing speed count with live dealers. Professional card counters will train you to master Speed Count in our simulated casino environment (including Frank Scoblete, Henry Tamburin and Dom LoRiggio). There is no better way to master Speed Count than to be taught by the very people that developed it! The two-day course includes many additional advantage play strategies not covered in the GTBR book, as well as the opportunity to talk one-on-one with the best experts on blackjack.
We're offering all GTC folks a special price of $695 for the upcoming October 21st and 22nd two-day course in Las Vegas (normally $895). There is no better or faster way to learn how to beat the casinos at blackjack than to take one of courses and be trained by experts who teach you the Speed Count method, and help you master the techniques while playing in our casino classroom. Tuition also includes a copy of the Golden Touch™ Blackjack Revolution book.
Call our toll-free number, and ask for the $695 special:
1-800-944-0406