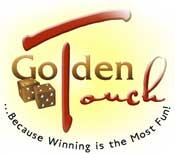 Henry Tamburin Wins Golden Touch™ Craps No Sevens Contest with a World Record!
Best selling gambling author, editor of BJ Insider newsletter, and blackjack expert Henry Tamburin has been playing craps with Dominator, Golden Touch™ and Frank Scoblete for a few years now and he's seen the economic potential in dice control. He's been in on some of their monsters - those 50 plus hands - and he's gone from a skeptic to a believer. As have Stanford Wong, Jean Scott, John Grochowski, Dr. Don Catlin, Linda Mabry, Gus Rose and a host of other gambling writers who used to be skeptics and are now believers.
Well, Henry finally received his wife Linda's permission to take the Golden Touch™ Craps dice control course, which he did in November of 2005 in Tunica, Mississippi. Henry told Linda that he would take out the garbage forever more if she would let him spend a weekend learning the "craft." She let him go.
Henry was one of 50 students who took that particular class but he was one of the shinning lights.
It looks to Frank that Henry will have a good throw once he works on one serious quirk in his hand. For some reason when Henry moves his thumb inside his palm, his fingers split apart - they actually pop apart. Now this isn't good for the three-fingered dice control grip (which is the premier grip for most people) as it makes it difficult to get your fingers evenly spaced across the front of the dice. After the Saturday class, Henry's hand was killing him and he wondered if he shouldn't switch to a two- or one-finger grip.
At dinner he showed the instructors how his hand was weirdly formed and how it popped when he brought his thumb in. Everyone was sympathetic to his plight and all tried to come up with ways for him to avoid having to use the three-fingered grip.
Frank was very sympathetic to his plight too. "What? You're nuts! Go with the three-fingered grip and your hand will get used to it. Put up with the pain for a few days and it will go away."
Well, it didn't take a few days. On Sunday, Henry said that his hand felt much better and that most of the pain had gone away overnight. His throw was looking very good too.
To prove his point, that Sunday afternoon Henry Tamburin put on a display of shooting that had the class of 50 students cheering and clapping. Golden Touch™ likes to end the two-day dice control classes with a no-sevens contest. You get the dice; you roll until a seven comes up. We count the rolls. The person who has rolled the most numbers before that dreaded "devil" shows his ugly face wins the contest. The winner gets a First Place Plaque and a cash prize.
The all-time record for the no-sevens contest set in class was 39, set by Arman "Pit Boss," who is now one of our great Golden Touch™ instructors. Pit Boss set his record in April of 2003 and while several student shooters have made it into the 30s during the contest, no one has been able to bump Pit Boss's record off the charts.
Until now, that is.
Henry Tamburin rolled a spectacular 45 numbers before that miserable 7 reared itself, breaking Pit Boss's record by six rolls. Henry's no-sevens record was only 11 rolls behind Dominator's in-casino record of 56 rolls, which was set in Canada last year.
Congratulations go to Henry Tamburin who won the Plaque, the money, and the right to take out the garbage for the rest of his life!