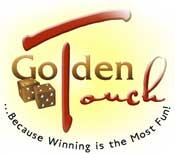 Part Two: Taking Advantage of Non-Random "Random" Craps
by Frank Scoblete
In my last article I speculated that the success the Captain has had with the 5-Count in actual casino play might have something to do with the ability of the 5-Count to get us on "hot" shooters, defined as that percentage of crapshooting players who are altering the outcome of the game based on their style of throwing the dice. Some of these are controlled shooters, such as Dominator, who have, through intensive practice, learned to alter the game to favor them. But most are "unconscious" (as in unaware) rhythmic rollers who have, either over time or over the course of a given night, accidentally hit upon a roll that is favoring some numbers over other numbers.
Not all shooters having good rolls would be considered "hot" shooters by this definition. You would need to see that they were setting and lofting the dice in the same way and that the dice were more or less reacting in unison when they landed and hit the back wall.
If a certain percentage of the players (I speculated 5 percent) were indeed changing the nature of the game, this does not mean that it would be evident in the statistics. I showed clearly that you could have statistics that looked as if they were arrived at through randomness when in reality you had controlled shooters at work. In short, unconscious rhythmic rollers would be changing the game in self-eliminating ways; some would be hitting an inordinate number of 7s; some would be hitting a lot of craps numbers; some would be hitting this or that box number or numbers. In short, many of the unconscious rhythmic rollers would be canceling each other out.
An average player would not notice that such was the case. He'd see his money go up and down, depending on how he bet and who was shooting, and at the end he would be happy because he won or miserable because he lost. With bets evenly spread among a legion of average players, the casino would see no difference in its bottom line between what was really a random game and what was merely an apparently random game.
But what about a player who was truly savvy? Could such a player exploit the controlled shooters and the unconscious rhythmic rollers to win some money?
Yes. Here's how.
---
The complete text of Frank's article is available exclusively in the Articles section of The Craps Club.
Already a member? Click here to login to The Craps Club (a new window will open).
Not a member? Click here to find out how to join.