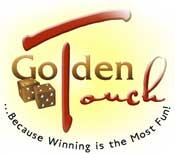 Dealers Shouldn't Play a Private Game
by Frank Scoblete
I happen to be an exception to the craps-playing rule that crowded is best. I like playing at craps tables where Iím the only shooter or where there are only a few players; while most craps players hate to be alone at a table and usually seek cramped conditions in order to court Lady Luck. That feeling of discomfort when all by your lonesome at a craps table accounts for the oft-seen phenomenon of two tables at the same casino, with the same minimum-to-maximum bets, and the same length, and the same layout, the first, jam-packed with players with other players hoping to squeeze in, and the second completely empty.
Desiring uncrowded conditions, I often act like a shill, opening tables that then see other players slowly joining until, unfortunately for me and fortunately for the casino, they become crowded. But, of course, I am not an "official" shill and therefore I am not a part of the crew working the game. Iím a real player, betting real money, whether Iím alone at a table or part of a throng. And therein lies a problem that I have encountered many, many times in my quest for the perfect craps game Ė dealers who forget that their primary reason for being at the table is to deal a craps game and not socialize with their fellow dealers.
I canít estimate the number of times Iíve been rolling the dice while having to listen to discussions of the barbeque last week; or of what this or that person said to that other person the other night and is it true that Tim is divorcing Tamara? Iíve had to listen -- but not look as my wife would kill me Ė to male dealers ogling some buxom female cocktail waitress or patron. Indeed, Iíve picked up a lot of "inside" information at casinos concerning their managers (most of them morons by the dealersí accounts) and what was going to happen to this or that casino in the next weeks or months. [For example, I found out the Sands in AC was going to dump most of its table games from the casino floor and switch to a slot joint long, long before it ever became public knowledge.] Some dealers will even continue personal conversations as the table starts to fill up.
---
The complete text of Frank's article is available exclusively in the Articles section of The Craps Club.
Already a member? Click here to login to The Craps Club (a new window will open).
Not a member? Click here to find out how to join.