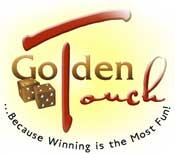 GTC Non-Disclosure Agreement
The Golden Touch™ Craps (GTC) course is composed of proprietary material. In it, you will learn methods of dice control that are unique to Golden Touch™. One such is the Captainís Rhythmic Rolling Technique, known as "the Method." This is the method the Captain himself uses when he rolls. It is an advanced technique geared to creating the softest possible throw with the least bounce.
While the 5-Count and the information in Frank Scobleteís books and tapes are available to the general public, the proprietary information in a GTC course is not available to the general public and is protected information.
When you take a GTC class, you must be willing to sign this "non-disclosure" form that stipulates you will not discuss or attempt to teach the particulars of "the Method" or any of the other proprietary techniques taught in the course. This assures GTC of two things:
Our proprietary materials and techniques are only taught by certified GTC instructors and are thus taught properly.
The proprietary techniques will not be copied, changed, altered or misunderstood by would-be dice control teachers to the harm of their students.
By signing this statement, you agree that you will not discuss or attempt to teach any of the proprietary methods taught by GTC.
---

SIGNATURE OF STUDENT
DATE