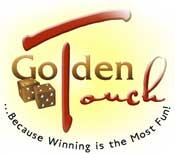 THE CAPTAIN OF CRAPS: 15 YEARS LATER
By Frank Scoblete
Frank: Captain, itís been 15 years since I started researching and writing Beat the Craps Out of the Casinos: How to Play Craps and Win! Have you noticed any changes in the game since the book came out?
The Captain: Yes, there are many more casinos offering more than double odds. I have also noticed some people playing the 5-Count, not a tremendous number but enough that itís noticeable. I have run across more rhythmic rollers as well. I think thatís where you are seeing the impact of your book. The idea that some people can influence the dice has gained a foothold in the consciousness of some craps players, although, to be honest, youíd think more players would look into that aspect of the game. It seems self-evident to me that because the casino lets you throw the dice that a careful set and delivery can change the randomness of the game.
Frank: So you donít wear a Captainís hat?
The Captain: Never. No. I was in the Army Air Corps in World War II remember. [For a complete biography of the Captain, read Forever Craps: The Five-Step Advantage-Play Method!]
---
The complete text of Frank's interview with the Captain is available exclusively in the Articles section of The Craps Club.
Already a member? Click here to login to The Craps Club (a new window will open).
Not a member? Click here to find out how to join.