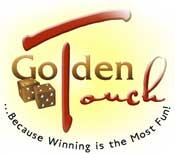 Frank Scoblete's World Craps Championships TM brought 167 players from around the country to Las Vegas on the weekend of July 22 and 23 to participate in the first non-casino craps tournaments ever held. There were 10 tournaments spread out over two days – all of them head-to-head matches, based on dice rolling skills, with the winner of each match advancing to the next round. Each tournament had 96 players competing for first, second, and third place trophies and cash prizes.
The first nine tournaments, listed below, crowned the winner as the champion of specific dice throwing results – for example, the No-Sevens Champion was able to roll the longest without a seven appearing. The winners and second place finishers of the nine tournaments were automatically placed in the 10th tournament The World Craps Championship (WCC). In addition, at least 14 other players were selected by lottery to be in the WCC so the final field in the final tournament was made up of 32 players.
The winner of the World Craps Championship tournament was Linda "Lowroller" Mabry – a well-known gambling writer and member of Golden Touch Craps. "I've taken the Golden Touch Class five times and I am getting better and better," she said while being interviewed for a Hollywood film being made of the event. The tournaments were also filmed by Time-Warner Television, Swedish Television, and many of the participants.
But the weekend was not just the exciting tournaments. "We had great events in addition to the tournaments," said Dominator, a lead instructor in the Golden Touch Craps dice control seminars. "We had exhibition challenge matches where instructors went against each other head-to head. We had a great Awards Banquet where we gave out the trophies and cash prizes; and also where we gave out special awards called The Goldies to members of Golden Touch Craps who made outstanding contributions to our organization."
The tournaments crowned individual champions but there were also team championships as well. Teams from Florida to Hawaii competed to see who had the most skillful members. Cleveland won a narrow decision to become the team champion. Each member of the teams had an individual score that was averaged with the other members of the team to come up with a team average for determining who won.
Finally, the "best man" and the "best woman" were also crowned. These were the individuals who beat the most people in the first nine tournaments.
Here are the results of the tournaments and the winners of special awards:

THE COME OUT CHAMPIONSHIP
1. Jim Buckley
2. Craig "Ace" Gordon
3. Roger Garza

THE IN THE FIELD CHAMPIONSHIP
1. Dennis "Nitro" Dion
2. Charlie "Sandtrap" Romano
3. Joyce Jesuitas

THE MAKE YOUR POINT CHAMPIONSHIP
1. Nancy Visco
2. Ken Droog
3. Don Catlin

THE ON THE HOP CHAMPIONSHIP
1. Louis "Lou-cifer" Van Dyke
2. Jim Buckley
3. Charlie "Sandtrap" Romano

THE 4 AND 10 CHAMPIONSHIP
1. Don Garcia
2. Linda "Lowroller" Mabry
3. Robert Marshall

THE 6 AND 8 CHAMPIONSHIP
1. Pat Higgins
2. John Gunn
3. Fred Pippin

THE CRAPSHOOTER CHAMPIONSHIP
1. John Chabot
2. Bob Chandler
3. Glenn Bush

THE HARDWAY CHAMPIONSHIP
1. Tim Barnes
2. Kathleen Bush
3. Chris Taga

THE NO SEVENS CHAMPIONSHIP
1. Phil Corder
2. William Gow
3. H.D. Steve

THE TEAM CHAMPIONSHIPS
1. The Cleveland Crew – 10.2 points
2. The Atlantic City Boardwalk Rollers – 10 points
3. The West Coast Wise Guys – 10 points
4. The Florida Shooters Association – 8.5 points
5. The Chabot Clan – 8 points
6. The Fabulous Hawaiians – 7.8 points

THE BEST MAN
1. Charlie "Sandtrap" Romano – 19 points
1. Louis "Lou-cifer" Van Dyke – 19 points
1. Jim Buckley - 19 points
2. Dennis "Nitro" Dion – 17 points
2. Jim Hatfield – 17 points
3. Don Catlin – 16 points

THE BEST WOMAN
1. Kathleen Bush – 16 points
2. Joyce Jesuitas – 15 points
3. Nancy Visco – 13 points

THE GOLDEN SHOVEL AWARD
Missouri Rick

THE GOLDIES
The Family that Plays Together Goldie - The Chabots
The Fabulous Hawaiians Goldie – Renfred Frias, Roland Shar, Art Yamamoto, and Regan Onikuma
The Above the Crowd Goldie – Dave "Da Porker"
The Generous Spirit Goldie – John "Skinny" Therkelsen
The Silk Purse Goldie – Charlie "Sandtrap" Romano
The Above and Beyond Goldie – "Travelin" Marilyn Taylor

THE WORLD CRAPS CHAMPIONSHIP
The World Champion – Linda "Lowroller" Mabry
1st Runnerup – Tim Barnes
2nd Runnerup – Bob Corrai