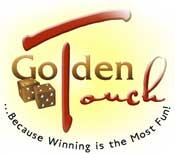 Smart Craps Professional (v1.50) for Windows
Smart Craps is a fundamentally new way for dice controllers to win at the casino game of craps. With Smart Craps, you will learn:


how to prove, with statistical certainty, that you are influencing the dice outcomes, using our powerful and new Pro Test© method.

the optimal dice sets and bets given your unique dice control skill.
your edge over the casino: how much money you can make playing craps.
Screen Capture: (click image to enlarge)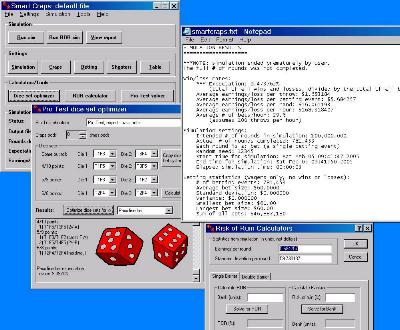 Features in Smart Craps Professional
Smart Craps Professional is crammed with features designed to help dice control experts maximize their potential in the game of craps. Nothing comes close to the advanced simulators and tools in Smart Craps:
Pro Test© dice control metric: Learn about our new Pro Test© dice control test, the most accurate and powerful statistical test for dice control in the game of craps. Instead of needing many thousands of rolls for statistical certainty with tests like the SRR, Pro Test© can tell you in a few hundred rolls whether you are in fact influencing the dice.
Professional craps simulation: model every possible aspect of the game, includng rare but important aspects such as odds, payout rounding, commission bets, multiple shooters, extensible betting systems, known and 'blind' betting on shooters, lay bets, random table walkups/shooters, and much more. You can simulate games with SRR shooters, Pro Test© dice controllers, or even random shooters.
SRR Support (Seven-to-Rolls Ratio): Run craps simulations with different minimum and/or maximum SRR values. Find out what edge you have based on your SRR values.
Dice set optimizer: Using the new Pro Test© dice control metric, use our mathematical calculators to immediately determine the optimal dice set for any craps bets, including pass and don't pass. You'll be amazed to find out what the best dice sets are for you at different times in the game. Is the 3V set the best on a 4 point, or does a different dice set make you more money? Smart Craps answers these questions once and for all with mathematical precision. Prove exactly how much money you can make with your Pro Test© dice control skill!
Smart Craps Roll Recorder: The Smart Craps Roll Recorder is a fundamentally new way for dice controllers to prove they can get a edge in the game of craps. Using our new Pro Test© statistical method of dice control measurement, you can find out if you have an edge in as few as 100 to 500 rolls! The Roll Recorder can be used alone, or in conjunction with Smart Craps. Features:

Fast and easy roll recording: Record your roll sets with the minimum clicks and/or key presses.
Windows and Palm OS versions included: No need to purchase separate versions! You get both the Windows and Palm OS version of the Roll Recorder.
Integration with Smart Craps: The Roll Recorder and Smart Craps are designed to work seamlessly together.
Import/Export features: You can import your existing roll data to analysis with Pro Test© in the Roll Recorder, and you can export the data in delimited text format and read it into your spreadsheet or similar program.

Script Betting Module: This component is the ultimate power-user add-on for players wanting to test their own individual bet systems. This betting module lets you program any possible betting and dice setting system in BASIC ( Microsoft VBScript©), which Smart Craps then executes as part of the simulation. You program your betting system in VBScript, which is a feature-rich subset of the common BASIC programming language. All you have to do is tell Smart Craps what file the betting system script code is in, and it takes care of the rest. Smart Craps will call into the script code everytime there is a betting opportunity, letting your script decide what bets to place (if any), and what dice sets to use.
Risk of Ruin (ROR) calculators and simulation: Find out how much bankroll you need to survive in any given game and your unique dice control skill. You can uses our ROR simulator to empirically derive your bankroll requirements through multiple simulation sessions. Or, use our ROR calculators that immediately estimate your ROR from well known mathematical formulas.
100+ pages of online help and documentation: A wealth of detailed help is available at the press of a button in every dialog and at any time. Learn about Pro Test©, proof that it works, and even how to take a dice control test the right way.
Command line batch processing: You can run Smart Craps from the command line, allowing you to automate simulation runs and tests with different settings.
---
After using our software you may want to put your new craps dice and betting skills into practice without risking any money. These recommended craps sites from Onlinecasinos all offer the opportunity to open an account and play in demo mode first.


SPECIAL INTERNET PRICE: $129.95






Call 1-866-SET-DICE to order by phone

Common Questions
Below are some common questions about Smart Craps:

Is craps really a beatable game??!!
Unlike blackjack and a few other casino games, craps cannot be beaten with mathematics and 'brain power' alone. In blackjack, we can learn an advanced card counting system to determine when we have a positive edge (based on the remaining cards in the shoe), and bet more accordingly. There is no similar strategy or system in craps: if you are using random rolls of the dice, you are bound to lose money in the long run, no matter what betting strategy or system you use. There are many scam books and resources that say you can make money simply by controlling your bets (in craps, blackjack, roulette, baccarat, etc.): this is not what Smart Craps is about!
But… this does not mean the game of craps can't be beaten! The answer lies in dice control, the physical skill of manipulating the throws of the dice such that the average outcome is not random, and sufficiently biased to produce a positive player edge given a particular betting strategy.
To get a positive player edge and win at craps (in the long run), you need to do three things:
Learn the physical skill of dice control.
Confirm, through mathematical tests of your rolls, that you have learned this skill and that you are rolling the dice and generating non-random results with statistical certainty.
Determine what positive player edge, if any, your level of dice control skill yields given a specific betting/playing strategy in craps.
Smart Craps is all about steps two and three. Since dice control is a physical skill, not a pure mental skill like card counting in blackjack, you will not be able to learn and master it from a book or software program alone.

What are the computer requirements for the software?
Smart Craps will work on any desktop computer running Windows 98 or higher (i.e. Windows 98 SE, Windows 2000, Windows ME, Windows XP, etc.). 15 megabytes of hard disk space is required. 800 by 600 screen resolution or higher is recommended. Smart Craps does not run on Windows CE handheld operating systems (or Palm OS), since the computing capacity of these small devices is very minimal.

Where can I learn more about Pro Test©?
A complete discussion of Pro Test© is included in the documentation, with the software. You'll learn how it work, why it works, and even see the mathematical proof, if you're so inclined!

What about software updates?
You are entitled to free software updates via online download to Smart Craps for one year from the date of your purchase. This may be limited to the features available in version you purchased (i.e. some new features must be bought as optional add-ons). DeepNet backs up it's software with outstanding support and follows through with upgrades and improvements.