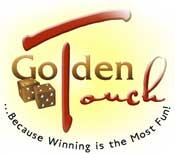 The Captain is the World Record Holder for Most Rolls!
By Frank Scoblete
I have always thought that Stanley Fujitake's three hour and six minute roll in May of 1989 in Las Vegas was not only the longest casino craps hand in terms of total time elapsed but also the longest hand in terms of total numbers thrown before the dreaded seven-out. I always estimated that Fujitake rolled about 200 numbers in his mammoth run.
I was wrong.
According to Boyd Gaming at whose property this roll took place, Fujitake's epic hand was 118 numbers long before he sevened out. [Boyd Buzz, Summer 2004, page 3.] While Fujitake still holds the total time record, his great feat has been surpassed, in a spectacular way, by the greatest craps player of all time - The Captain, who rolled 147 numbers before he sevened out. The Captain's roll took place in July of 2005.
The Captain's roll lasted two hours and 18 minutes.
The disparity in time between the two rolls is easy to explain. Fujitake was rolling on a 14-foot table, packed with players, most of them making the Hardways bets and other Crazy Crapper bets that took a lot of time to pay off. That table had at least 14 players at it. With only 12 players at the Captain's 12-foot table and with most of them eschewing the bad bets, the Captain was able to get in many more rolls in much less time.
The fact that the Captain achieved such a remarkable roll at the tender age of 83 merely vindicates what Golden Touch™ and I have been saying for years. The Captain is the "man" when it comes to casino craps play and history can now record him as having had the greatest single hand of all time.